Do you want to buy the caddyTek explorer V8 – SuperLite 4-Wheel Golf Push Cart?
If you answer yes, you will be able to obtain all of the accurate information about this product, which will assist you in making an informed purchasing decision.
CaddyTek has your golfing needs covered, whether you're a seasoned golfer or a newbie. The CaddyTek Explorer V8 4-Wheel Golf Push Cart, which debuted in February 2022, is the newest addition to their golf collection. Professional and amateur golfers looking for a high-quality pushcart with innovative features will appreciate this golf pushcart. Continue reading if you're interested in learning more about this revolutionary golf pushcart.
The pushcart is built of lightweight, long-lasting material. It features plenty of storage space for all of your belongings. The front wheel swivels 180 degrees, making it simple to maneuver in any direction. On difficult terrains, use this golf pushcart. It is made of a durable material that provides comfort and stability.
Let's take a look at some of CaddyTek Explorer V8's features and give it a quick review:
Proper Layout
The golf push cart comes with everything you'll need for a fantastic round of golf. This pushcart isn't cheap, but it's also not outrageously pricey. The golf push cart is built of high-quality materials and has a great design. There are some extra features that make this product more valued and useful.
Handle Adjustment
A button on this type releases the handle and closes it. This is a smart option for folks who need to push the cart upstairs or downstairs or for those who have mobility challenges. Furthermore, when not in use, the cart compresses to become quite compact and easy to store.
The strap can be adjusted
The product's quality and ease of use appeal to me. If you need to secure them more tightly, the bungee cords aren't excellent; I would have preferred longer elastic straps. The bottom and upper straps are fantastic because they don't have any clips or buckles, making them much easy to adjust and balance. They can be attached to whatever sides you want; the adjustable ones are provided in the package.
Ball-bearing wheels that roll smoothly
Golfers who wish to carry their bags in style will appreciate CaddyTek's 4-wheeled golf cart. The front wheels on the cart can be adjusted to accommodate your bag's width, and a tool is included to align the wheels. CaddyTek carts are light and easy to maneuver, making them ideal for backcountry exploration and golfing.
This model works well in a variety of environments, including difficult terrain. It's simple to move around. It boasts a sturdy metal frame and heavy-duty wheels, making it ideal for tough terrain.
Storage is quick
Our golf storage item comes with a nice pouch with numerous pockets for storing tees, golf balls, ball markers, and more. The cart is attractive and compact, and when not in use, it may be folded against the wall. It's simple to open and close, and you won't have to worry about lifting a hefty bag off your shoulder!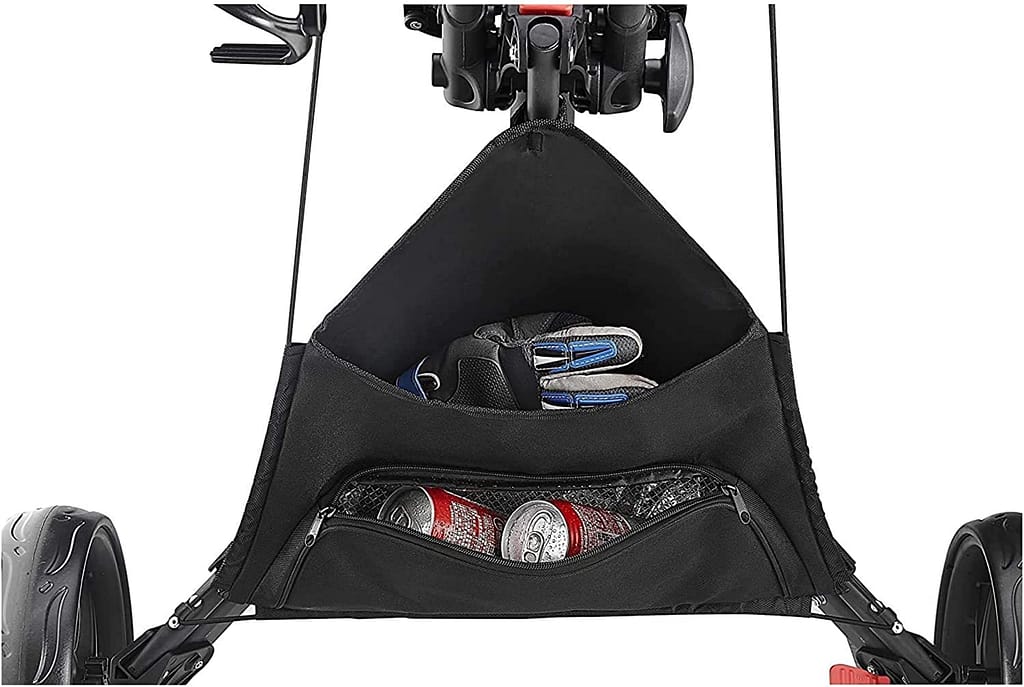 Brake on the foot
The foot brake is an excellent technique to begin golf instruction. It's a fantastic option for folks who aren't used to pushing or pulling golf carts. The foot brake is really simple to operate and makes a significant difference in how quickly you can ascend and descend hills. When you put the Foot Brake through its paces, you'll immediately see that it outperforms all other sorts of stopping systems.
Assembly
The method of setting up this model is quite simple. On the contrary, it's simple and easy to use — but with half-baked instructions and no prior instructional film to help consumers, they can get confused in the process. Assembly, on the other hand, is a breeze if you have a basic understanding of how each piece fits together.
Mobility:
This golf cart is quite sturdy, glides smoothly, and is simple to maneuver. The front of the golf cart may lift to clear obstacles thanks to the two-step rise and fall feature. When you need to pull over to the side of the tee box, it's a handy feature. My golf bag fits well into the back compartment. Overall, this golf cart is excellent forgetting about the course.
Pros:
Excellent wheel design and compact size

The rubber grip provides the perfect balance.

The folding mechanism performs admirably.

Strong metal frame and ergonomic handle

Zipper pockets that are larger

An excellent model for any terrain.

Storage for your tees
Cons:
Uncomfortable rear-wheel alignment

Designed in China

The upper bag holder isn't holding the bag securely.

Turning it from left to right is too difficult for a lady.
LET'S WATCH A BAGBOY COMPACT 3 PUSH CART REVIEW VIDEO!
FREQUENTLY ASKED And QUESTIONS (FAQS)
The CaddyTek Explorer V8 is a stylish golf cart that can be pushed. It has a large consumer base and has been around for a long time. We will now address some of the most frequently asked questions about CaddyTek Explorer V8 on various themes.
For the same price, would you prefer a three-wheeler or a four-wheeler?
I'd go with four wheels because they're more stable than three. A swivel option would be ideal, but if you can't find one, a three-wheel choice will suffice. It's also more lightweight and maneuverable than a four-wheeler. The four wheels are the greatest form of wheel for hiking big packs across hard terrain since they have a better balance for uneven terrain.
Is it possible to fold while the umbrella holder is still attached?
The umbrella holder is affixed to the golf cart, as seen in the video. As a result, the cart and umbrella are quite portable. Furthermore, the umbrella holder may be installed by unscrewing the old one from the handle, attaching the new one to the handle, and screwing it back into place. It's incredibly simple to use and maintain!
Is it possible to swivel the front wheel?
The user can nip the position left or right using the front wheels. The wheels will help the golfer narrow, widen, or raise the cart's height to accommodate the bag.
Is this model primarily made of metal or low-cost plastic?
Metal is used for the frame, and plastic is used for some of the components. The cart is made of high-quality materials and is a high-quality item. This is the option for you if you want a high-quality item at a reasonable price.
Is this a one-fold type, or do the wheels have to be taken apart?
This model is a folding golf pushcart with a small footprint. The wheels stay attached when folded, and it folds down to a compact size for storage. The top and center sections can be folded down for simple storage. When this item is folded up, the wheels are not removed.
Final Words – CaddyTek Explorer V8
The CaddyTek Superlite Explorer V8 golf push cart is a high-end golf push cart that is both robust and beautiful. The CaddyTek Explorer V8 also comes with a rain cover to protect it from the weather.
A water bottle holder, a storage box, and a canopy with a zipped coat pocket are all included in this 4-wheel push golf trolley. The top is D-ring attached to the cart and may be removed and used as a seat.