Choosing golf clubs is an investment, and without a clear understanding, you might spend on a set that doesn't match your swing—whether too stiff, too long, too short, or other mismatches. This is unfortunate, as a quality set of golf clubs can endure for a decade without needing replacement.
Honest Golfing tip: Regardless of the cost, the clubs you select constitute a long-term investment that will significantly impact you both mentally and physically. Therefore, here are the best golf clubs currently available on the market:
The TaylorMade P790s stand out as the premier golf club set. This iron set not only delivers exceptional distance and accuracy but also offers forgiveness for players who require it. The crucial elements of distance and accuracy are addressed adeptly by the TaylorMade P790s, making them an ideal choice for golfers seeking these essential features with their irons.
The TaylorMade P790s may not be the optimal choice if…
However, it's crucial to read the entire post below, as we guide you step-by-step through making an investment that you won't regret.
Golf caters to a specific type of player, making the quest for the perfect golf clubs a challenging endeavor. Not all golf clubs are created equal, and amidst the plethora of excellent sets available, determining the best ones can be daunting. A golfer's clubs are akin to tools, and the quality of these tools directly influences your chances of improving your handicap.
In this article, we'll explore the best golf club sets in five distinct categories. Additionally, we'll delve into why the TaylorMade P790 irons stand out as the top choice for most golfers, while also providing alternatives that may be better suited for specific situations. Let's dive in and get started!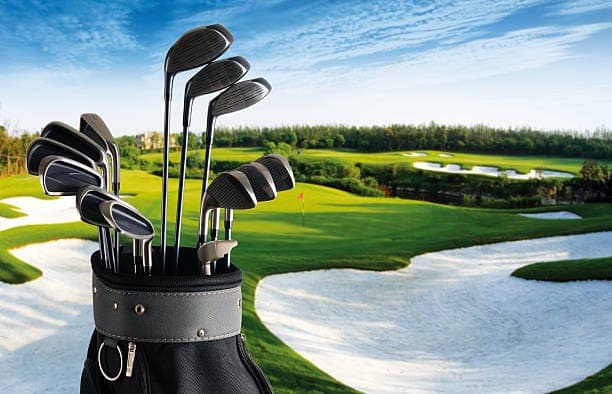 Best Overal: TaylorMade P790 Irons
Offering an exceptional combination of performance and affordability, the Taylormade P790 (available on Amazon) stands out as the best choice for most golfers, regardless of their handicap level or playing style.
Designed to optimize distance and enhance accuracy, the P790s were initially aimed at low to mid-handicappers, achieving immediate success. However, their versatility extends to beginners as well. These clubs are favored by both professionals and those with handicaps of 20 and above, a testament to TaylorMade's consistent delivery of high-quality clubs that appeal to a broad spectrum of golfers.
Since their debut, the P790s have only improved, with the latest version featuring enhanced aesthetics and feel. The introduction of SpeedFoam Air, a specialized foam within the club face, contributes to added compression upon impact, accompanied by a pleasing sound. The club heads' redesign, incorporating a thin-wall frame made of 8620 carbon steel, results in improved launch angles and a lower center of gravity, offering a higher yet controlled launch angle. The longer irons boast a design that maintains ball speed even with less-than-perfect contact.
In summary, the TaylorMade P790 irons come highly recommended if you seek golf clubs that deliver improved consistency and distance at a reasonable price. They perform admirably for low handicappers and are trusted by some PGA Tour professionals.
Pros:
Consistency: The TaylorMade P790 irons are meticulously crafted to deliver unwavering distance and a consistent feel with every ball strike.
Enhanced Distance: The P790s contribute additional yards to your game, particularly notable with the longer irons, courtesy of the innovative Thru-slot Speed Pocket.
Aesthetic Appeal: Boasting a sleek and elegant design, the P790s provide a feeling of playing with tour-quality clubs.
Forgiveness: While not matching the forgiveness levels of some beginner clubs, the P790s offer sufficient forgiveness, making them user-friendly for mid to low handicappers.
Cons:
Not Ideal for Beginners and High Handicappers: The P790s may not be the optimal choice for beginners and high handicappers. Other golf clubs on the market provide superior forgiveness and ease of swing for those at the early stages of their golf journey.
High Ball Flight: The P790s tend to produce a high ball flight. While not inherently problematic, this characteristic may pose challenges, especially when playing along the coast or in windy conditions. Awareness of personal preferences and playing conditions is crucial for optimal performance.
Best Golf Clubs for Dedicated Golfers: TaylorMade SIM 2 MAX Irons
While the P790s excel for mid to high handicappers, the Taylormade SIM MAX irons are the go-to choice for players of all handicaps, especially those committed to enhancing their game. Suitable from beginners to scratch golfers, these irons deliver rapid ball speeds, unwavering consistency, and exceptional forgiveness, making them user-friendly without compromising distance—an issue commonly faced with many golf clubs.
The acronym 'SIM' in SIM MAX stands for 'Shape in Motion,' a fitting descriptor for these irons that heavily leverage ball-shaping technology. The success of this design is evident, making the SIM MAX irons stand out as a comprehensive set.
Technological features like the speed pocket and speed bridge contribute to the extra distance these irons generate. This innovation ensures that the SIM Max irons maximize ball speed within the regulations set by the USGA.
In addition to the extended distance, the SIM MAX irons boast remarkable forgiveness, a standout feature for golfers of all handicaps. The technology incorporated, including the cavity back and Inverted Cone Technology, facilitates straighter shots even with off-center hits and toe strikes.
The SIM MAX irons provide an excellent feel and consistency, particularly beneficial for high-handicap golfers. The CHO® Damping System produces a forged-like sound at impact, contributing to a tour-like feel.
In summary, for high-to-mid handicap golfers seeking improvement and enthusiasts looking for clubs that can accompany them from beginner to single-digit handicap, the TaylorMade SIM MAX irons are the optimal choice.
Pros:
Versatility for all handicaps: The SIM MAX irons cater to players with high, mid, and low handicaps, offering effectiveness across a broad range of skill levels.
Forgiving nature: Regardless of your skill level, the SIM MAX clubs provide the forgiveness needed to transform suboptimal shots into decent ones. This is especially beneficial for beginners, high handicappers, and mid-handicap golfers, contributing to score improvement.
Enhanced distance: With advanced technology, these irons rank among the longest ever made by TaylorMade. This results in shorter irons into greens, boosting player morale.
Great feel: The SIM MAX irons deliver a sound and feel akin to a forged club striking a ball, providing a smooth and consistent experience valued by many golfers.
Cons:
Premium price: Positioned in the higher-end market, the SIM MAX irons may be beyond the budget for some golfers. Some customers believe that, given their target audience of beginners and high-handicapped players, the price should be more competitive.
Reduced spin: High-handicap golfers often struggle to produce spin, and the lower spin produced by these irons may pose challenges in the short game, where control is crucial.
Best Golf Clubs for Seniors Golfers: Callaway Apex Iron Set
Renowned for crafting golf clubs tailored to accomplished golfers in the lower handicap spectrum, Callaway introduces the Apex Iron Set, designed for dedicated golfers positioned in or near the low handicap range.
These clubs boast elevated launch angles, increased spin rates, and a tour-like aesthetic and feel. While the previous Apex irons performed well, they lacked the visual appeal and feel to be considered excellent. The latest iteration of the Apex irons has addressed these shortcomings, now standing as one of the premier golf club options.
The enhanced feel in these clubs is attributed to a thicker face and a polymer core, elevating both feel and face resilience. With nearly 50% more tungsten than previous versions added to the club's head, the impact zone on the clubface is improved, resulting in longer distances and heightened forgiveness.
Customer reviews and professional critics alike have showered the Callaway Apex irons with positive feedback. The standout feature is not a single component but rather the well-balanced nature of this golf set, ticking nearly all the essential boxes.
This set delivers impressive distance, exceptional forgiveness, a high launch angle, and consistent strikes overall. The max-impact technology in the face of the clubs is the secret behind the increased distance in the new Apex irons.
In conclusion, if you're a professional or scratch golfer, these clubs offer a blend of consistency, distance, and overall feel that you'll appreciate. Widely utilized by professionals, the set attests to its quality. Even high handicappers with a proper golf swing technique can find enjoyment in using these clubs.
Pros:
Aesthetic Appeal: The refined, polished appearance of the new Apex irons is a visual delight for every low-handicap golfer. The sleek design, rounded toe, and highlighted grooves create a perfect look behind the ball, boosting a golfer's confidence.
Balanced Performance: These irons exhibit excellent performance, encompassing forgiveness, ball speed, and a high rating overall. The forgiveness on off-center strikes instills the confidence needed for a free and confident swing.
Improved Launch Angles: Callaway has enhanced the Apex irons with strong lofts, easy launch characteristics, and outstanding spin rates. The addition of high-spin shaft options in their new range helps prevent undesirable high-flying shots.
Cons:
Aesthetic Preferences: While the Callaway Apex iron set has made significant strides, its aesthetics might not be the most appealing when compared to other clubs in the market. This aspect may disappoint some low-handicap golfers seeking both performance and aesthetic appeal.
Not Ideal for Higher Handicappers: Primarily targeted at mid to low-handicap players, these clubs may not be the best fit for those in between. While an excellent set overall for the specified category, it may not cater as effectively to players with higher handicaps.
Most Stylish Golf Clubs: Callaway Rogue ST Pro Iron Set
In the world of golf, the perpetual challenge lies in finding clubs that not only perform exceptionally but also boast an appealing aesthetic. Striking the right balance between performance, distance, and looks has proven elusive for many golf manufacturers.
However, Callaway addresses this conundrum with the Rogue ST Pro Irons.
Reviews indicate that these golf clubs not only deliver impressive performance but also rank as the longest-distance irons available. For golfers seeking maximum distance, the Rogue ST Pro irons emerge as the ideal choice.
The hollow body and compact-shaped head contribute to the extra whip imparted to the golf ball, resulting in remarkable distance. Featuring an AI-designed Flash Face Cup, the club face enhances launch angles and accelerates ball speeds. Despite these performance-driven features, Callaway ensures that the clubs maintain the look and feel of a tour player's iron.
An outstanding characteristic of these irons is their exceptional workability, allowing golfers to shape the ball in both directions. This is particularly advantageous for low-handicap golfers who prefer altering ball trajectories to navigate challenging pins.
However, for higher handicap golfers accustomed to straight shots, this workability aspect may be less relevant. Yet, the ST Pro irons manage to offer a decent amount of forgiveness, though it may not be as extensive as in some other clubs.
Overall, the Callaway ST Pro irons exhibit above-average performance across various aspects. Yet, their accuracy is a notable drawback. Shot dispersion and unexpected shot distances may pose challenges, leading to their categorization as aesthetically appealing.
In summary, if you seek a set of clubs that seamlessly combines looks and performance, the ST Pro irons excel in this dual role. Should Callaway refine the accuracy of these clubs in future iterations, they could emerge as a top-performing option.
Pros:
Leading Distance: The ST Pro irons claim the top spot in shot distance, providing an impressive advantage on the course. Hitting an 8 iron at a 7-iron distance is a noteworthy feature.
Exceptional Workability: These clubs showcase remarkable ability in shaping the ball both ways, making them suitable for a diverse range of golfers.
Good Launch Angles: Achieve optimal ball launch and a soft landing on any green with these clubs. Combined with a favorable spin rate, they offer a perfect match.
Decent Forgiveness: While not designed for beginners, the ST Pro irons provide sufficient forgiveness for high handicappers.
Cons:
Accuracy: The ST Pro irons suffer in terms of accuracy, ranking lower in this aspect. While average golfers may not notice a significant difference, the lack of precision is notable.
Less Suitable for Lower Handicappers: Golfers with lower handicaps may find these clubs challenging due to their overall performance, despite lacking in the accuracy department. Precision is crucial for competitive play in this category.
Best Golf Clubs for Low Handicap Golfers: Gold Mizuno Pro 223
For low handicap players seeking the pinnacle of golf clubs, the Gold Mizuno Pro 223 irons stand out as the ultimate choice. Crafted specifically for golfers skilled enough to wield a blade but desiring a touch of forgiveness, these irons cater to the elite category of players.
The shift among Tour players, including notable names like Jordan Spieth, towards clubs featuring a cavity back underscores the importance of mitigating the impact of less-than-perfect strikes. The Gold Mizuno Pro 223 irons strike the perfect balance, offering a tour-like feel while ensuring comfort for elite golfers.
Notable for their beautiful design and aesthetic appeal, these clubs exude a sense of craftsmanship designed for the discerning golfer. Customer satisfaction extends beyond performance, with praise for the overall look and Mizuno's thoughtful placement of their logo on the back toe of the face, reminiscent of earlier club generations.
Beyond their impressive looks and forgiveness, the Gold Mizuno Pro 223 clubs boast a unique construction. The 4 through 7 irons are forged from Chromoly material with a flow micro-slot for enhanced distance and forgiveness. In contrast, the 8 iron to pitching wedge is meticulously crafted from a single billet of 1025E mild carbon steel, prioritizing precision and control.
This unconventional approach to construction contributes to the irons' appeal and performance, catering specifically to golfers with faster swing speeds. While players with slower swing speeds may not experience the same distance gains, there's a range of opinions on performance, with some critics citing average results and others noting a significant increase in distance and accuracy.
For low-handicap golfers, accuracy and consistency take precedence over sheer distance, and the Gold Mizuno Pro 223s excel in these aspects. Mizuno's reputation for delivering quality golf products shines through, with consistent launch, spin, and carry numbers observed during testing—an ultimate testament to the clubs' consistency and accuracy.
The inclusivity of offering full sets for left-handed and female golfers adds another layer to Mizuno's appeal. However, it's worth noting that Mizuno may not be the go-to brand for drivers and hybrids, and alternatives from popular companies like Callaway, Ping, or TaylorMade may be preferable.
In conclusion, if you're a low-to-mid handicap golfer seeking clubs that blend exceptional feel and consistency with aesthetic appeal and forgiveness, the Gold Mizuno Pro 223s are tailor-made for you.
Pros:
Aesthetic Appeal and Feel: The Mizuno Pro 223s feature a compact head shape that looks and feels exceptional behind the ball, providing a pleasing aesthetic for any golfer. The renowned 'soft' feel, especially with the shorter irons, adds to their allure.
Quality Performance: These irons boast consistent performance with every strike, ensuring that shots stay within expected distances. This reliability proves advantageous on competitive courses.
Good Forgiveness: Designed for low handicap golfers, the forgiveness offered by these clubs minimizes the impact of mis-hits, contributing to lower scores compared to blades.
Increased Distance: Golfers with fast swing speeds are likely to experience enhanced distance, providing an added advantage.
Cons:
Less Suitable for Higher Handicap Golfers: While tailored for lower handicap golfers, this specialization might be considered a drawback in the context of being the best golf clubs overall.
Limited Distance for Slower Swing Speeds: Golfers with relatively slow swing speeds may find the distance produced by these clubs to be average at best. However, one could argue that the primary focus of these Mizunos is accuracy and consistency.
Considerations for Purchasing Golf Clubs
When navigating the array of golf club brands, making a decision becomes more manageable by taking specific factors into consideration. Before investing in new golf clubs, weigh the following factors:
Handicap Level:
Golf clubs are tailored to specific skill levels. Using professional-level clubs as a beginner or vice versa is counterproductive.
Professionals often use less flexible clubs to maximize distance. Using such clubs without the necessary experience can lead to erratic shots due to the design catering to differently-paced downswings.
Shaft Quality:
Thoroughly examine user reviews regarding the shaft quality of a golf set. Some clubs may excel in design but fall short in shaft quality.
Graphite shafts are often preferred for their flexibility and durability. However, clubs with steel shafts may offer more distance. Prioritize durability in design over the shaft material.
Swing Style:
Your swing style is a crucial consideration when selecting golf clubs. Certain clubs cater to players with faster downswings, while others provide more flexibility for increased distance with slower swings.
There's often a trade-off between distance and accuracy. It's uncommon to find clubs that offer both maximum distance and forgiveness. The choice may involve balancing these factors based on your playing style.
Recap: Best Golf Clubs in 2023
Given the abundance of golf clubs in the market, making a selection can be daunting, especially for casual golfers or those lacking the time to delve into the intricacies of club selection. In such cases, the TaylorMade P790s emerge as an ideal option. For those seeking more specific alternatives, consider clubs aligned with your handicap level and swing style.
Remember that clubs emphasizing accuracy and forgiveness often sacrifice distance, while those prioritizing distance may compromise forgiveness. Tailor your choice based on the aspects that align with your playing preferences and style.