Are you thinking that this is the year to finally start walking when you're playing golf? Today's post is the Bag Boy Triswivel II review as it is one of the best golf carts on the market.
If you're like most people, you're probably setting New Year's Resolutions or trying to make some positive changes in the new year.
And most of them tend to be based on making more money, losing weight and, in the case of golfers, playing better golf! And we couldn't agree more.
Fortunately, if you choose the right golf cart, you can make two of the three resolutions. I wish I could say it would make you more money, but I can't guarantee that (unless you start winning skin games with your friends).
In all seriousness, walking instead of biking is a great move. Even if it's occasional, it can make a big difference in your health and maybe even your golf game.
The average course is 6,000 to 7,000 yards depending on which tee you play. It's almost four miles of hiking! And if your legs aren't used to it, it can get tiring and wreak havoc on your game later in the round.
Fortunately, there are so many amazing golf carts out there that walking around is made so much easier with new technology. Plus, when you use a golf cart, you don't have to worry about the strain that carrying your bag might have on your back.
In our last best golf carts of 2019 post, the Bag Boy Tri Swivel II was our favorite in terms of three-wheel carts. I'm confident this golf cart will help you get more of a workout and keep up the pace so you can keep up the momentum between shots.
This is everything you need to know about the Bag Boy Triswivel II golf cart.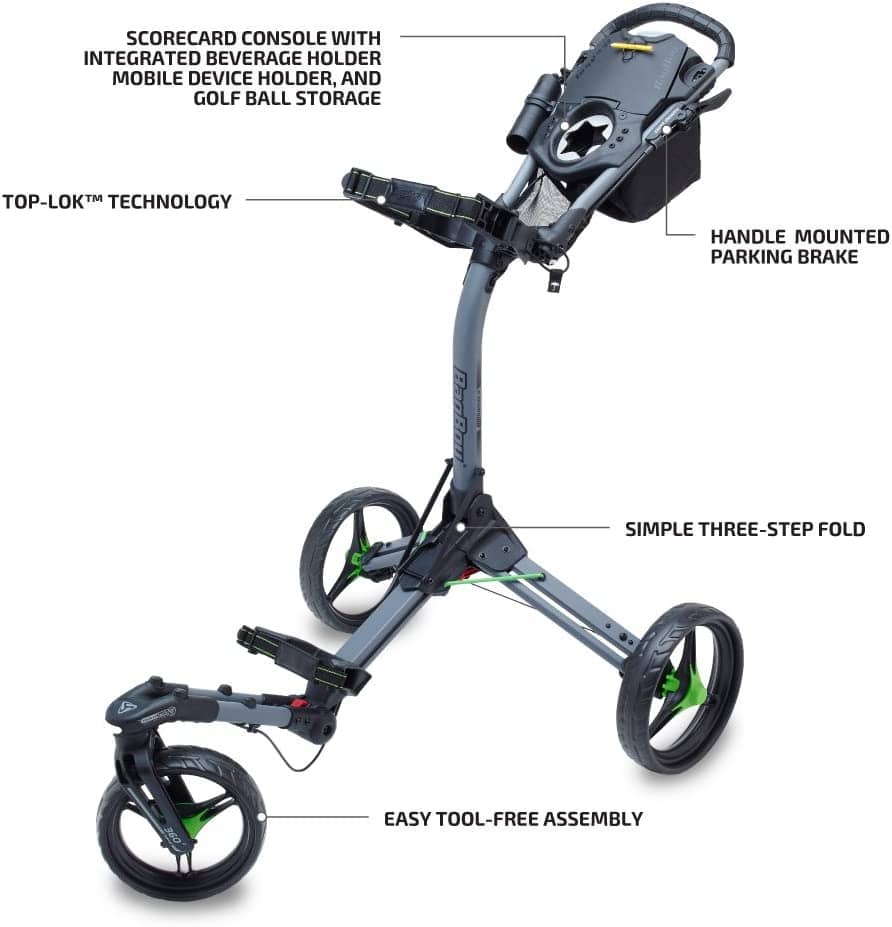 Bag Boy Tri Swivel II Review
In my opinion, Bag Boy is one of the best golf cart and accessory providers on the market. They don't stray far from their zone of awesomeness, which is golf carts, bags and accessories. And it shows in the Bag Boy Triswivel II.
Here are some of the great benefits:
Features and Benefits of the Bag Boy TriSwivel II Golf Cart
One of the main reasons this push cart is so attractive is that the front tire has 360-degree maneuverability. Unlike many of the other carts on the market, this one makes the Bag Boy stand out.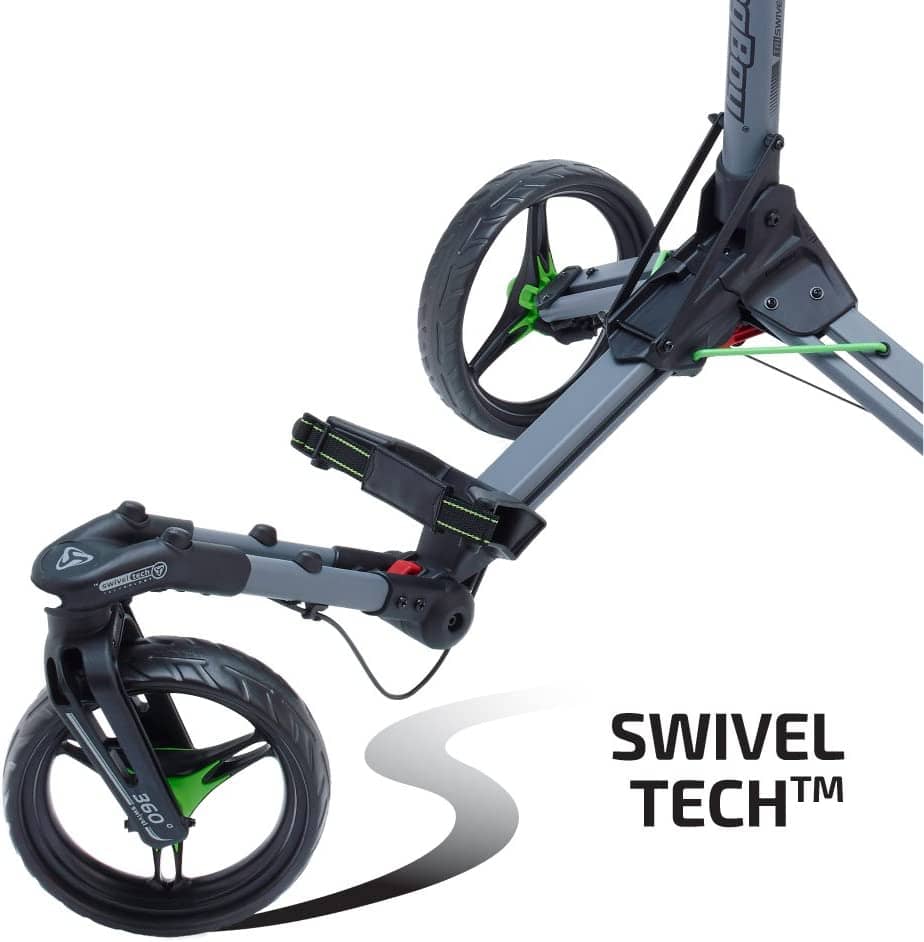 If you've ever hiked before, you know the importance of being able to maneuver a golf cart with ease. There's nothing worse than getting stuck or having front wheel trouble mid-ride.
Easy Three-Step Folding Skills
If you've ever owned a golf cart, you know how important it is for it to be easy to fold for travel or storage in your home or garage. This model makes it easy to fold and several of the reviews talk about how easy it is to do. "Fold the cart in seconds with its simple three-step fold," remarked Bag Boy.
Adjustable Handle and Storage Console
One of the other cool perks of the Bag Boy is the adjustable handle and console storage unit. The shaft adjusts in one step, making it suitable for golfers of all heights.
Also, I really like the console because it has a small net for the rangefinder and a wide holder for a water bottle. And there's room on the side for a scorecard and pencil clip. Under the handle is a separate storage pocket that makes it easy to store head covers, extra gloves, towels or other golf gear.
Inside the console itself, you have plenty of room to store four balls, a wallet, keys, or tees. This compartment's measurements are 7″x5″x2″.
Not to mention it's…
With a lightweight, weather-resistant aluminum frame, this chair is extremely durable.

9.5-inch front and 11.5-inch rear oversized wheels roll through the grass

Handle-mounted parking brake makes it easy to adjust before hitting the next stroke

Lightweight, solid foam, maintenance free tires.
Alternatives to the Bag Boy Triswivel II Golf Cart
As I mentioned, there is no shortage of golf carts on the market. These are some of the major competitors:
ClicGear 8.0 –  The Clicgear Model 8 Golf Cart is a 4-wheel cart with dual cup holders (for those annoyingly large cups), umbrella holder and sturdy base.
Tangkula Swivel 3-Wheel Push Cart – This is one of the most comparable options to Bag Boy, as it has a front wheel that rotates 360 degrees. It doesn't have enough storage space, but it's still a good option too.
Bag Boy Quad XL –  This is the four-wheeled version of the Triswivel II. Since it has four wheels, it does not have a fully swiveling front wheel. However, it offers a lot of fantastic features.. It is one of the most stylish 4-wheelers on the market and has plenty of storage space too.
Bag Boy Tri Swivel Top Questions
What does the Bag Boy Tri Swivel II include?

The cart comes 100% ready to use right out of the box. If you want to customize it, you can add various options. Some of them come with a matching rubbish bag to keep the trunk tidy.
How much does it weigh?

 This model weighs 17 pounds.
What are the dimensions?

It has the following dimensions: • Folded Dimension: 23.5″ x 13″ x 24″.
Final Thoughts
The Bag Boy TriSwivel II is a great product that will help you increase your exercise and get rid of the golf cart. This 3-wheel cart is stylish, compact and highly functional.
My favorite part is the 360* turning radius, easy foldability, and sleek design. Also, with its huge storage compartment, it makes it a great option to start walking.
Click here For more product information and pick up your new push cart today.
Let's See Bag Boy TriSwivel || Push Cart Review Video