Do you want to buy the Bag Boy Quad XL –  4 Wheel Golf Push Cart?
If you answer yes, you will be able to obtain all of the accurate information about this product, which will assist you in making an informed purchasing decision.
I use the Bag Boy Quad XL golf cart for every round I play because it can accommodate whatever bag I'm using. Tips have always been an issue with other carts, so when it came time to buy a new one, I opted for a 4-wheel design.
Again, it doesn't matter what type of bag I'm using on my Bag Boy Quad XL 4 Wheel Golf Cart because it holds up even with poorly loaded, cumbersome bags. This is a stroller that definitely deserves a close look.
CONVENIENCE FEATURES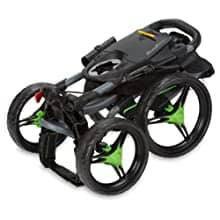 The Bag Boy Quad XL Golf Cart comes with a few features that aren't necessary, but definitely come in handy on the golf course. As a golfer, you can probably relate to playing in inclement weather, so it's nice that this cart comes with an adjustable umbrella holder.
In fact, you can move the umbrella stand attachment to the left or right side of the cart, a feature I've already used many times when playing with changing sunlight.
If you're familiar with some of Bag Boy's older push cart models, you'll probably appreciate the fact that the Quad XL has storage space that can accommodate a large scorecard, your phone, tees, and balls. There's also a moderately sized cup holder to accommodate thirsty golfers.
Has your cart ever slipped away when you weren't paying attention? That won't be the case with the Quad XL as long as you remember to engage the solid parking brake which inserts a pin into one of the 12 notches surrounding the right rear wheel.
Golf bags vary widely in size and shape, as do golfers themselves, so it's nice that the Quad XL push handle can be almost infinitely customized. Basically, you can make it as low or high or angles as you like.
HOW IT IS HANDLED
The first time I took my Quad XL out into the field I was very impressed with how easy it was to maneuver. The front wheels, which are 9.5-inches in diameter, are slightly narrower than the 11.5-inch rear wheels, and that offset makes it infinitely easier to turn.
The cart without any equipment loaded weighs 16.5 pounds, which is a good average weight for a cart that is easy to handle and durable.
You also don't have to worry about floors. The Quad XL's wheels are robust and do not require inflation.
Overall, the Quad XL has performed well in action. Even with my bags and all my trinkets loaded on it, the cart still rolls smoothly through any kind of grass.
PROS AND CONS
Pros
The phone holder sits right between the handles so you can look at your phone hands-free while pushing the cart.

Card size when folded is compact at 14.2" x 24″ x 17″

The storage bag features a magnetically sealed lid for added security.

It is available in a range of hues.

Minimal wheel spokes keep tires clean

Folds up and down easily.
Cons
It has a high center of gravity, which makes it a bit unstable on hills.

Ball mounts could be a bit bigger.

The brake only works when the car is stopped.

It does not come with an umbrella of its own.
The Breakdown
Performance Score: 8

Price Score: 8

Durability Score: 9

Personal score: 8
Let's Watch a Bag Boy Quad XL Golf Push Cart Review Video!
Final Thoughts: Bag Boy Quad XL
The jury of one (me) finds the Bag Boy Quad XL Golf Cart to be a worthwhile product. If you're like me, you'll benefit greatly from the adjustable front wheels that help the cart accommodate different-sized bags.
The ball storage and high center of gravity along with the somewhat narrow wheelbase leave a lot to be desired, but it's that same narrow wheelbase that makes the Quad XL so easy to ride and for me, money, maneuverability trumps a high center of gravity
I consider myself a versatile golfer, and I suggest the Bag Boy Quad XL to any golfer of the same caliber. If you're looking for a 4-wheel push cart, you should definitely give the Bag Boy Quad XL a good shot.
Note: If you did not satisfy this information, please read another Best Golf Push Carts review.